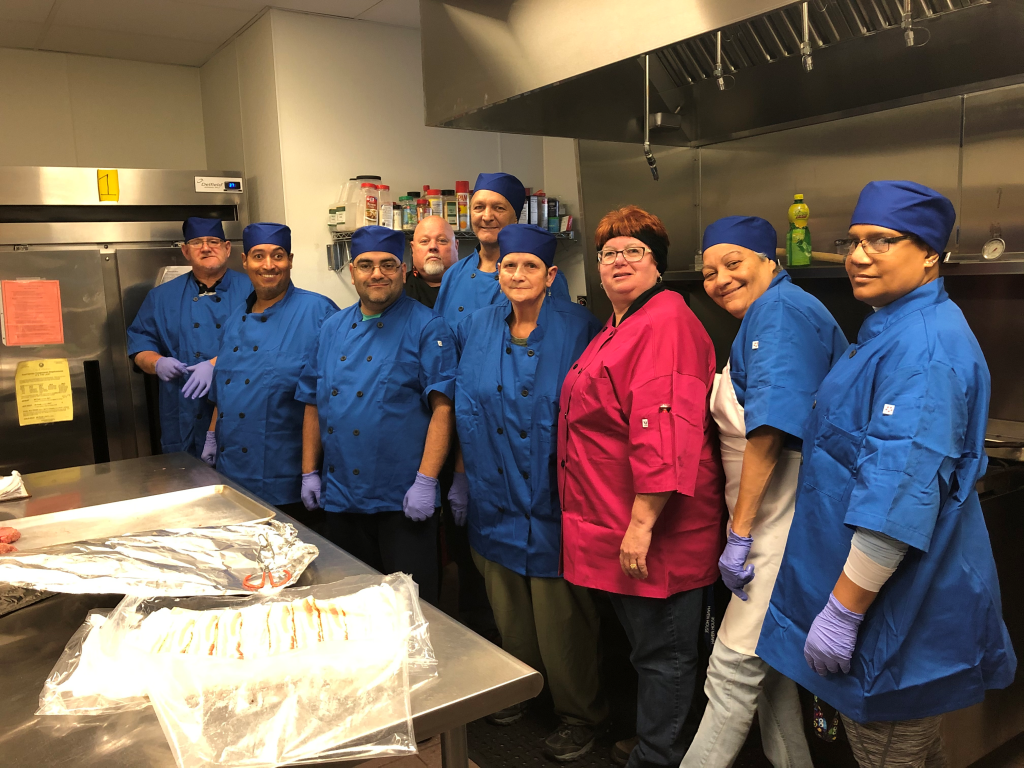 We provide psychiatric rehabilitation services to individuals, age 18 yrs and up, suffering from severe and/or chronic mental illness. Our skills-based program focuses on assisting individuals with work towards their individualized recovery goals through group activities. To achieve true rehabilitation for our clients, we focus on the five domains of psychiatric rehabilitation (living, learning, socializing, self-maintenance and working).
This program benefits our clients through working with their strengths while being focused on recovery and broadening their sense of well-being.
Clients participate in a full range of activities including but not limited to:
Small group discussions
On-site volunteer activities in the kitchen, laundry room, and gardens.
Trips into the community
Art therapy
Animal-assisted therapy
Gardening
Cooking
Our team of psychiatric rehabilitation professionals includes certified psychiatric rehabilitation practitioners (CPRP), masters-level clinicians, and certified peer support specialists (CPS). Through patience, encouragement, and reassurance, we help them to achieve their goals. Our staff is committed to giving our clients an opportunity to blossom into strong members of their community.
Hours: Monday – Friday 7:30 am – 3:00 pm
For more information or to begin the registration process, contact us here.
Mobile Psychiatric Rehabilitation Services (MPRS)
Mobile Psychiatric Rehabilitation Services addresses the same domains and skills as the site-based program (living, learning, socializing, self-maintenance and working) but is offered in the comfort of the home and/or out in the community on a more individualized basis. For clients with severe chronic mental health issues, becoming and remaining independent is an attainable goal, but yet an ongoing challenge.
Insurances accepted are Magellan Behavioral Health, Lehigh County, and Northampton County mental health funding. A self-pay option is available.
Hours: Monday – Friday: day and evening hours are available, and as needed, some Saturdays.
For more information or to begin the registration process, contact us here.
Psychiatric Rehabilitation for Autism Spectrum Disorder (ASD)
Psychiatric Rehabilitation can help successfully integrate young adults with ASD in the community through skills teaching. As a strengths-based service provider, we collaborate with the individual with ASD and their circle of care to develop a plan. Adult living skills are taught, and natural supports and resources are strengthened.
For more information, please contact:
Haven House (Mobile & Site-Based): 1411 Union Blvd., Allentown, PA 18109 – T: 610-433-6181
Step By Step (Mobile Only): 623 West Union Blvd., Bethlehem, PA 18018 – T: 610-867-0688
Salisbury House (Mobile & Site-Based):
Recovery Education Center 1427 – Chew St., Allentown, PA 18103 – T:484-866-9303
Unity House Enrichment & Recovery Center (Mobile & Site-Based) – 119 N. 4th St., Bethlehem, PA 18105 – T: 610-691-1580
1. When are you open?
Psychiatric Rehabilitation Services Hours of Operation – Monday-Friday 7:30 am – 3:00pm
2. How do I become a member?
3. Is transportation provided?
No, PRS and MPRS do not provide transportation, however, we will help you apply for Lanta services. MPRS will assist individuals with learning how to use public transportation.
4. Do I need to be a Haven House Outpatient client to attend PRS/MPRS?
No. As long as you are receiving psychiatric services from any doctor, you can be referred to the PRS or MPRS programs. If you would like, you can become an Outpatient client also and see a doctor and/or therapist here, but it is not required.
5. Can I receive Mobile PRS and site-based PRS services at the same time?
No, you can only be registered in one of these services at a time.
6. Are meals provided?
Yes, the site-based PRS program offers breakfast, lunch, and snacks throughout the day free of charge.
7. What will I work on in the program?
You will make your own goals with help from the Haven House caseworker based on the 5 domains of psychiatric rehabilitation including living independently, learning, working, social, and self-maintenance.
8. Do I have to come to program every day and/or stay all day?
No, you are able to have flexibility with your schedule based on your needs; however, we ask you to attend at least one day weekly for continuity of psychiatric rehabilitation.