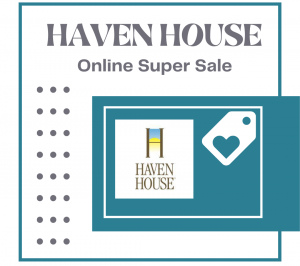 Once your order is ready you will receive a text or an email. Please pick up as soon as possible as we are limited on space.
Right now we DO NOT offer shipping.
Orders MUST be picked up at Haven House.

LOCATION:
1411 Union Blvd
Allentown, PA 18109
PICK-UP HOURS:
Monday. 9:30 – 4:30
Tuesday. 9:30 – 6:30
Wednesday. 9:30 – 5:30
Thursday. 9:30 – 4:30
Friday. 9:30 – 2:30
Please feel free to text or call Victoria for more information at 484-838-5582.
100% of the proceeds from this online sale go directly to Haven House, to find out more about what we do check out our website and Facebook.
Weekly Raffle – 
Winners are drawn at random using Picker Wheel and will be notified by text or email of their win.
NEW ITEMS
Last Chance, super deals!
Haven Gear
Arts and Crafts
Bath
Beauty and Personal Care
Bedding
Cleaning
Electronics
Entertainment
Fitness/Sporting Goods
Food & Beverage
Furniture
Health & Wellness
Holidays Past/Future
Home Décor
Kitchen
Lighting
Nursery / Kids Room
Outdoors
Paper and Plastic Products
Party Supplies
Pet Lovers
Storage and Organization 
Stationary and Office Supplies
Tools and Home Improvement
Toys
APPAREL & ACCESSORIES
Baby
Kids
Men
Women
Shoes